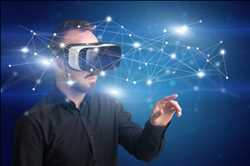 Zion Market Research added a new report "Virtual Reality Market Size, Share, Growth Report 2030" to its database. The report provides a 360° analysis of Virtual reality Market from the view of manufacturers, regions, product types, and end industries.
The virtual reality market has grown significantly in recent years and is expected to continue growing in the future. The global virtual reality market size was USD 10.85 Billion in 2020 and it is expected to reach USD 52.03 Billion by 2028, growing at a CAGR of 21.9% from 2021 to 2028..
The gaming industry has been a major driver of the virtual reality market, with the release of various VR gaming headsets such as the Oculus Rift, HTC Vive, and PlayStation VR. These headsets allow users to fully immerse themselves in the game and have a more interactive experience.
In addition to gaming, the virtual reality market has also seen growth in other industries. In healthcare, VR is being used for various purposes such as training medical professionals, pain management, and therapy. In education, VR is being used to provide students with an immersive learning experience.
Virtual reality market growth factors
There are several factors that are contributing to the growth of the virtual reality market. Here are some of the key growth factors:
Increasing demand for VR in gaming and entertainment: The gaming and entertainment industry has been a major driver of the VR market, with the release of various VR gaming headsets. This has created a growing demand for VR in these industries.
Growing adoption in healthcare: The healthcare industry is increasingly using VR for medical training, therapy, and pain management. This has created new opportunities for growth in the healthcare sector.
Rise in e-commerce and online shopping: With the rise of e-commerce and online shopping, VR has become a popular tool for retailers to showcase their products in a virtual setting, allowing consumers to have an immersive shopping experience.
Technological advancements: As technology continues to improve, VR hardware is becoming more affordable and accessible, allowing more people to experience VR. Additionally, improvements in VR content creation and software development are also contributing to the growth of the market.
Increasing demand for VR in education: The education sector is increasingly using VR to provide students with immersive learning experiences, which has created new opportunities for growth in this industry.
Our Free Sample Report Consists of the Following:
Introduction, Overview, and in-depth industry analysis are all included in the 2022 updated report.
The COVID-19 Pandemic Outbreak Impact Analysis is included in the package
About 227+ Pages Research Report (Including Recent Research)
Provide detailed chapter-by-chapter guidance on the Request
Updated Regional Analysis with a Graphical Representation of Size, Share, and Trends for the Year 2022
Includes Tables and figures have been updated
The most recent version of the report includes the Top Market Players, their Business Strategies, Sales Volume, and Revenue Analysis
Zion Market Research Methodology
Some of the Top Market Players Are:
Sony, HTC Corporation, Samsung Electronics
The key micro and macroeconomic factors impacting Virtual reality Market are likewise talked about in this section. Aside from this, they give an account of worldwide Virtual reality Market advertising likewise discusses components, for example, key open doors, drivers, limitations, and patterns that are affecting or likely impact the market in the prospective years.
Also, Research Report Examines:
Competitive companies and manufacturers in the global market
By Product Type, Applications & Growth Factors
Industry Status and Outlook for Major Applications / End Users / Usage Area
The Highlight of the Virtual reality Market Research Report:
Complete in-depth analysis of the parent market
Key changes in market dynamics
Major Segmentation details of the market
Past, ongoing, and projected market analysis in terms of volume and value
Assessment of niche industry developments
Market share analysis
Key strategies of major market players
Emerging segments and regional markets
Testimonials to companies in order to fortify their foothold in the market.
Market Segmentation
By Product –
Head Mounted Display, Vr Simulator, Vr Glasses, Treadmills & Haptic Gloves, And Others
By Application –
Gaming, Entertainment, Automotive, Retail, Healthcare, Education, Aerospace & Defense, Manufacturing, And Others
Regional Analysis of Market Report:
North America ( United States)
Europe ( Germany, France, UK)
Asia-Pacific ( China, Japan, India)
Latin America ( Brazil)
The Middle East & Africa
Regional Analysis:
In the regional analysis section, the report provides a regional analysis, including a detailed analysis of macroeconomic factors at the regional level. Regional drivers, restraints, and trends are provided to ensure a holistic picture of the regional market.
Current and Future Threats
Along with studying the opportunities necessary for growth, threats are also an important aspect to look upon for the companies and stakeholders in a specific sector. ZMR Research studies every negative aspect that will hinder the growth of a specific area of business and includes it in the report. The stakeholders and CXOs will have the benefit of assessing the threat and take the necessary steps to prevent the hindrance caused due to the threats.
Reasons to invest in this report:
This exhaustive research covers all the important information pertaining to Virtual reality Market that a reader wants to know. Zion Market Research employs a combination of secondary research followed by extensive primary research. Under secondary research, we refer to prominent paid as well as open-access data sources including product literature, company annual reports, government publications, press releases, industry association magazines, and other relevant sources for data collection. Other prominent secondary sources include STATISTA, trade journals, trade associations, statistical data from government websites, etc.
Methodology
The qualitative analysis involved primary interviews, surveys, and vendor briefings. The data gathered as a result of these processes were validated through experts' opinions. The market dynamics have been determined after conducting a detailed study of the micro and macroeconomic indicators of the market.
Various parameters have been taken into account while estimating market size. The revenue generated by the leading industry participants in from the sales of Virtual reality Market across the world has been calculated through primary and secondary research.
For this study, Zion Market Research has conducted all-encompassing primary research with key industry participants to collect first had data. Moreover, in-depth interviews with key opinion leaders also assisted in the validation of findings from secondary research and to understand key trends in the Virtual reality Market. Primary research makes up the major source of data collection and validation.